The Wedding ceremony and Reception will take place atop Grouse Mountain on Saturday, July 10, 2010. The precise hours have yet to be set but we are anticipating an afternoon ceremony and evening reception. Grouse Mountain is in North Vancouver, an easy drive from the city of Vancouver. If you are coming from away for the wedding, we encourage you to stay in Vancouver itself.
We are looking into group events for our out-of-town guests, as well as group hotel discounts and transportation to and from the wedding event. We will let you know if and when these options become available and if they do not work out we will provide you with your best options for lodging and transport.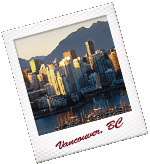 More information about Vancouver from a visitor's perspective will follow, but for the time being you should be aware that the ceremony will be outdoors and to get to the venue a (smooth) gondola ride will be required.
SECOND CELEBRATION
Angela's family tree extends very far and we understand that not everyone will be able to travel to Vancouver for the wedding. To accommodate these beloved relatives, there will be a second celebration in Easton, Pennsylvania in October, 2010. The exact date has not yet been secured, please check back for the announcement!
Google maps location
Outlook Calendar reminder
Facebook Event